Been a while!
Figured I'd post up a few pictures here, if nothing else.  Click on the "more" too see 'em, along with a description of the trip.
Spotted in Kyoto.  The dwarves have no doubt gone back into hiding since.
One of the coolest aspects of Japan is that it has two sides; the historical, where you can often walk less than 10 minutes from a train station to find something older than the United States, and the modern, where you can often walk less than 10 minutes from a train station to find something more high-tech.  I love to see situations where they're intermixed; last time I went, I found a satellite dish installed in an historical Shinto shrine.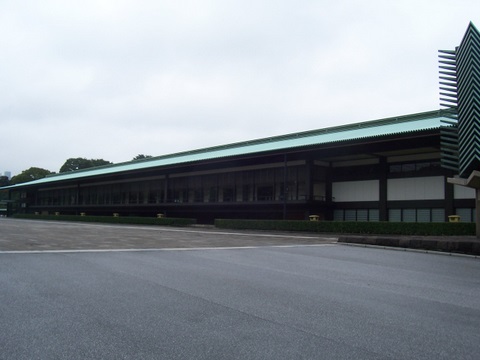 The Imperial Palace.  It may be an administrative building, but it's still pretty big.  It's near impossible to fit the entire building in a single photo, and even if you manage it, you lose the sense of scale.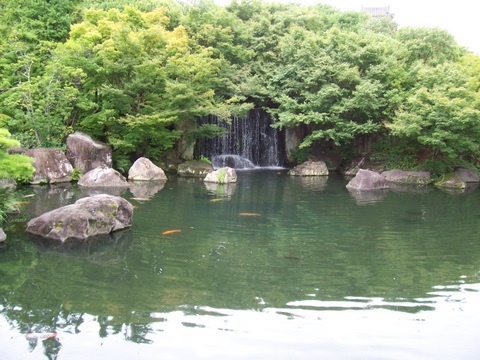 Waterfall in a garden in Himeji.  Just like the contrast between old and new, there is often a contrast between hurried and peaceful.  This garden is (like the Castle) around 10 minutes from a station, and really relaxing to walk through.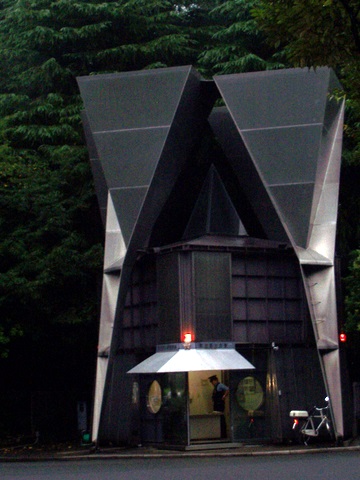 A police station in Ueno (Tokyo).  Cool design.
All in all, cool stuff we saw:
Akihabara.  Lots of stuff is there, but the noise/signal ratio if you're looking for games can be pretty bad.  There's a whole lot of porn and electronics stuff, and advertising isn't always clear (i.e. "PC games" often means "Erotic PC games only").
Den-den Town (Osaka).  Super Potato and the Game Detective Club are both a treat to go through for anyone who likes old games.
Golden Temple (Kinkakuji).  Pretty much a must-see.
Himeji Castle.  Another must-see, although a hefty bit of walking for our lazy American feet.
Meiji shrine, near Harajuku (Tokyo).  Accidental, but the best sites usually are.  Not even 5 minutes from the bustle of Harajuku station, an expansive shrine dedicated to Emperor Meiji.
Of course, those aside, simply the experience of being there – of seeing vending machines full of various citrus-y drinks (CC Lemon, how I miss thee already), bathhouses offering among the most relaxing experiences of my life (try roasting in 110-degree water, then cooling off in 60-degree water – it's an unparalleled feeling), "yakitate" bread stores filled with baked delights unsurpassed by the best donut shops… there is much to see even in the day-to-day in Japan that is still wondrous to me.  That's not to say I'd be 100% comfortable living there – anyplace has its problems – but the country is simultaneously familiar and completely new, and entirely navigable with a minimum of language knowledge.  I'd highly recommend taking a trip there at least once – I know I plan on going back.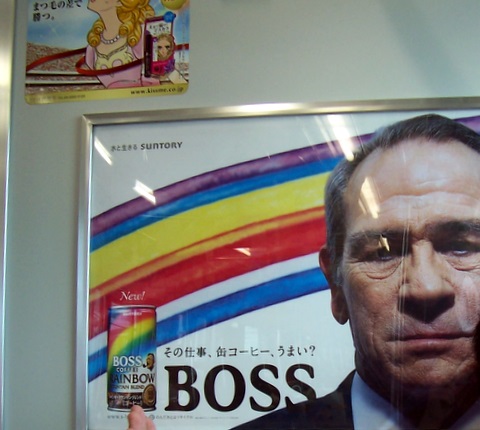 Mmm, Boss coffee.