A long, long time ago, I played one of the very first Massively Multiplayer games.  It was actually a set of games, really – dubbed the ImagiNation Network and owned by Sierra, it had several different sub-sections including standard board and gambling games, a multiplayer Red Baron, and, most importantly, an RPG called Shadows of Yserbius (later, Fates of Twinion and Ruins of Cawdor would be added).
At the time, the MMO had to be a part of basically its own internet, since the World Wide Web wasn't really much of a thing at that point, and so service was extremely expensive especially by today's standards.  Unfortunately, it seems to have also been too expensive for the owners, since they ended up being shut down.  It's fascinating that the decision to kill Yserbius and its cousins was made to avoid competition with (the MMO) Neverwinter Nights, as that's another such game I have some memories of.
In any case, it's possible to download a version of Shadows of Yserbius and play it on your own, but that only gets you maybe a quarter of the experience.  Yserbius was meant to be played online, and its balance for single-player is really pretty bad.  We'll set aside whether it's actually a good game.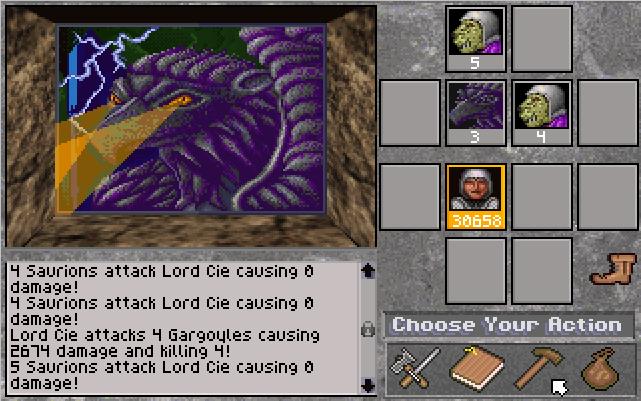 Where does this leave us?  Some hobbyists are trying to resurrect INN in some form, but haven't really gotten much of anywhere.  If they did, it would be perhaps a fraction of the original subscribers — of which there weren't all that many in the first place.  It couldn't possibly be the same, only somewhat similar.  There is an experience here that is arguably irrevocably vanished, impossible to reproduce.  Maybe that's okay — change is a part of life, and pining for interaction with others in the form of an RPG that's kiddie-pool level compared to dozens of free-to-play games is sort of silly.
But when I thought about it in the context of current free-to-play games, like World of Tanks, Maplestory, and especially less popular games such as Uncharted Waters Online, there are some experiences that will, in turn, be lost forever in a sense.  This is one reason why I prefer games to have an offline mode of some kind, or a design that won't make a single-player version of it totally pointless.  I've heard Guild Wars does this well, and presumably. when it finally kicks the bucket, Diablo 3 will handle it gracefully.
Another interesting facet is that there is an admittedly small sub-genre of RPG that mimics online games, most famously the .hack series.  I can "log onto" that and find a dozen or so "other players" to have a good time with — in fact, that service will stick around forever, effectively.  It's not quite the same as interacting with real people, but it arguably solves real-people problems such as excessive public chat, dancing in the streets of Stormwind, totally stupid players, and so on.  While .hack doesn't feel like an MMO, in another few years games could reach the uncanny valley where I'm not sure if I'm interacting with a player or a bot.
I wonder if eventually, the remedy for dead and dying MMOs could be a "single player mode" which contains dozens of AI-guided characters playing alongside you?  The thought is simultaneously fascinating and chilling — if it were possible to get the AIs to the point where they could interact with people well enough, it could have all the benefits of MMO and few of the downsides.